Unveiling LunaLED: The Ultimate Linear LED Light Fixture for Brilliant Illumination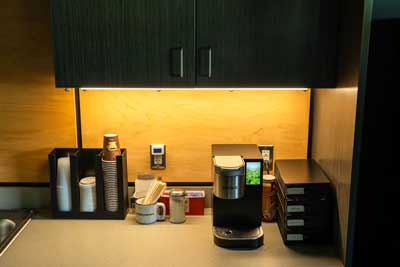 2023 August 03, Randolph, VT –  Introducing the LunaLED: A revolutionary linear LED light fixture with a lens that doubles as the housing, ensuring lightweight, even light distribution, easy installation, and cost efficiency.
Experience unparalleled illumination with the LunaLED's semi-circle domed lens, delivering edge-to-edge light without any disruptive LED spotting. Powered by high-performance Nichia LEDs, this remarkable fixture achieves an impressive 400+ lumens per foot while consuming a mere 2 watts.
The LunaLED offers versatile mounting options for effortless installation. With a flat back and grooves specifically designed for this purpose, it provides the perfect surface for attaching double-sided tape or using clips that seamlessly slide into the grooves and can be securely screwed into any surface. Combining this user-friendly design with its exceptional light dispersion properties, the LunaLED ensures a hassle-free and seamless mounting process, allowing you to enjoy brilliant illumination in no time.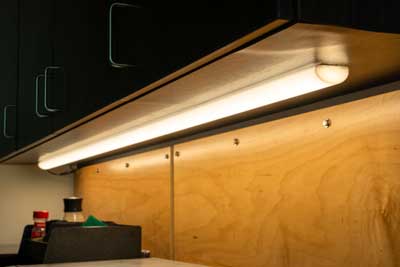 Say goodbye to installation woes and welcome the LunaLED's effortless setup. No more grappling with complicated wiring or tricky solderless connectors that demand technical expertise. With its plug-and-play functionality, the LunaLED offers a breeze of convenience. Simply connect to a common 24V power supply using the user-friendly 2.1mm connection, saving you valuable time. And that's not all; easily configure multiple units together for seamless expansion and customization.
Thanks to its efficient lens design, the LunaLED can be manufactured at a lower cost, enabling competitive pricing compared to cheaper, lower-quality Chinese under-cabinet LED strip lights. With the LunaLED, you don't have to compromise on quality or settle for subpar lighting solutions. Enjoy superior performance and affordability, making the LunaLED an unbeatable choice for illuminating your spaces.
In a real-life application at the LEDdynamics facility, the LunaLED proved its exceptional performance in under-cabinet spaces. The seamless integration with the under-cabinet area and smooth light output made LunaLED a visually pleasing addition to the environment. The facility manager praised the LunaLED for its quick and simple installation process, further highlighting its user-friendly nature.
David McGalliard
Distributor Account Manager
dmcgalliard@leddynamics.com
Main: (802) 728-4533
LEDdynamics
LunaLED Product page – Contact our Distributor Account Manager for more information or purchase directly from any of our Distribution Partners.