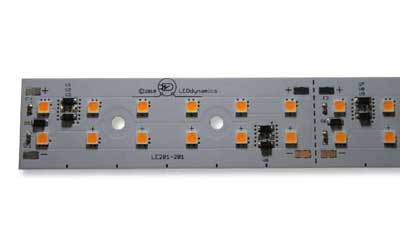 The LUXdrive™ DuoStrip is a high brightness light engine strip with 48 LEDs per foot, delivering over 1,100 lumens at 12-24VDC. Its versatile design allows for easy cutting every three inches, enabling individual segments to function as standalone light engines, while daisy-chaining boards up to 20 feet in total length provides maximum adaptability for various needs and applications.
12 or 24Vdc Input – No Driver Required!
Nichia LEDs
Cuttable and End-to-End Connectable
Multiple CCTs and colors available
Track Lighting
Architectural Lighting
Cabinet & Display Case
Sign & Channel Letters
Product
L045-N7xxxx40
I033-N7xxxx40
General
Shape:
Rectangle
LED Count
48
Field Cut
Standalone light engines down to 3-inch sections
Daisy Chain Limit
Up to 11 feet
Lumens1
1076 to 1146 lm
Beam Angle
120°
Optics
None
CCT
2700K to 6500K & Horticulture
CRI
80-90
Colors
Blue, Green, Red & Yellow
Electrical
Typical Input Voltage
12VDC
24VDC
Min. | Max. Voltage
11VDC | 13VDC
20VDC | 30VDC
Wattage
8 W/ft
Efficacy 2
149 lm/W
Control
Dimming
Yes
Type
PWM (Pulse Width Modulation
Environment
Operating Temp
-40 to 80o C
Storage Temp
-40 to 125o C
Mechanical
Connection
4 Solder Pads per 3" section
Mounting Holes
8
Dimensions
12.0 x 0.95 x 0.13 in
Weight
0.29 oz (8.3g)
Regulatory
Compliance
RoHS
Warranty
1 Year
* 1,2 Caclulated using white, non horticulture, LEDs.
* All specifications are subject to change without prior notification.