The A019 and F019 are an economic low voltage dimming controller capable of manipulating up to twenty-five LDI low voltage drivers or other current sinking compatible drivers.  Ergonomic simplicity and aesthetically pleasing, both low voltage dimmers feature logarithmic response and reverse polarity protection that will add to the performance of your control needs.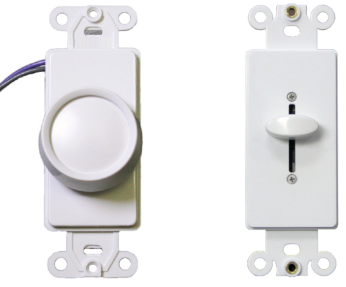 Made in America design and quality
Rotary knob, 0 to 10 low voltage dim control
Reverse polarity protection
Includes mounting cover plate and hardware
Product
LVDC A019
LVDC F019
Control
Interface:
Rotary
Slider
Dimmable:
Yes
Type:
0 - 10 V
Protection
Reverse Polarity:
Yes
Mechanical
Connections:
2 Wire Lead
Regulatory
Compliance:
RoHS
Warranty:
1 Years
* All specifications are subject to change without prior notification.
PART NUMBER
Interface
DIMMING
COLOR
CONNECTION
LVDC A019
Rotary Knob
0 to 10 V
White
2 Wire Lead
LVDC F019
Vertical Slider